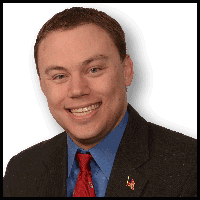 SPECIAL EDITION – Jimmy Sengenberger filling in for Chuck and Julie for the final show of 2018. Victoria Jones gives her "dirty dozen" of the year and Jimmie Viles joins Jimmy in-studio for some laughs as well as a little political talk.
Victoria Jones is the chief White House correspondent and global analyst for Washington DC-based Talk Media News. Her live reports are heard on over 400 talk radio stations across the U.S. She created and edits Quick Morning News, a unique aggregated early morning summary of top news stories and Jones's editorial commentary. She's a sought-out contributor to radio stations overseas as well as to U.S. cable TV news. Before contributing to TMN, she hosted the issues-oriented "Victoria Jones Show" on talk radio for 16 years, working in three top 10 markets on WRKO, Boston, WXYT, Detroit, WWRC, Washington DC and WMAL, Washington DC, in addition to syndication. She's interviewed hundreds of politicians, celebrities and people from spies and moms, to astronauts, doctors, morticians and criminals, who all had something to say. She's worked closely with sales teams to drive revenue increases. She's hosted a news talk show on MSNBC. She's the former TV editor for Talkers magazine, the trade magazine of the talk radio industry. She's a winner of the Associated Press award for best radio talk show, along with other radio awards. Born in the UK, she is a US citizen.   You can find Victoria Jones @victoriajonesdc 
Jimmie Viles performs over 500 characters, impersonations, impressions, accents, dialects, and sound effects. To date, Jimmie has over 1,000 on-air credits including television, radio, and copy writing. Jimmie's credits include MC, host, team building, walk-around comedy, meet & greet, DJ, games wizard, and murder mystery. Jimmie's performances include performing for Disney, Universal, Special Olympics, Denver Broncos, Denver Nuggets, Colorado Rockies, Denver Dumb Friends League, and Denver Children's Home. Check out Jimmie's website http://www.jimitations.com/ for more information.